Our unique camp was founded by the Royer and Lemieux families in 1978. George Royer was a pediatric oncologist in Kalamazoo, Michigan who read about a camp program held outside Chicago. One night, he came home and announced to his wife, Carole, that he wanted to start a program. Special Days Camps began that next summer with 50 campers and a volunteer staff of friends and medical workers from Michigan hospitals.
Five years later, Special Days Camp established a program for siblings. The founding families realized the need to have a special place and time for siblings, because cancer affects the whole family.
The Royers participated in camp until their passing in 2019. They are survived by their daughters Lynne and Pam, who serve as Health Director and Assistant Camp Director. The Lemieux children, Nikki and Dan, along with their families, remain actively involved both on the board and at camp.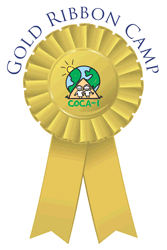 Special Days is a leader in helping families fight the impact of childhood cancer.  We have been awarded 'Best Camp Program' by COCA-I, the Children's Oncology Camping Association – International and we hold the distinction of being a Gold Ribbon Camp.
Special Days Camps is the second longest running oncology camp in the world and serves more than 300 campers annually. Camp would not be possible without the generous donations from individuals, corporate sponsors and grants.  Visit our donation page to learn how you can help.