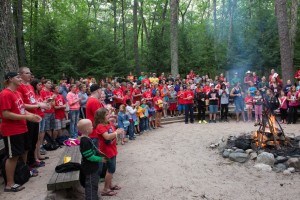 Special Days Camps exists to provide a safe and memorable camping opportunity in a medically-supervised environment for children who have experienced cancer and their siblings, servicing the entire family. We offer traditional camping activities, adapted to meet the special needs of our campers.
Special Days Camps is the second longest running oncology camp in the world. Over the years our service to our families has grown – check out what cool programs we have to offer!
Special Days Camps is committed to providing a diverse, inclusive, and equitable environment where all feel valued, respected, and safe. We recognize the perspectives that each child, family, and volunteer brings to camp and celebrate their unique voices.  Our organization is an inclusive and affirming camp regardless of gender, age, race, ethnicity, nationality, sexual orientation or identity, disability, education, or religion.
Our activities are intentionally designed to promote self-esteem, confidence, friendships, teamwork and leadership. Campers are given the opportunity to challenge themselves and develop life skills as they move through our programs. Developing these skills can help them successfully meet the challenges of treatment, school, work and family.
After attending Special Days, campers bring home more than just dirty laundry… they bring home unforgettable memories and long-lasting friendships. They bring home tales of tasks accomplished that before were thought of as unattainable. They come home feeling more confident in themselves and more secure with their illness. It is amazing how one week at Special Days Camps can truly make a difference in their lives!